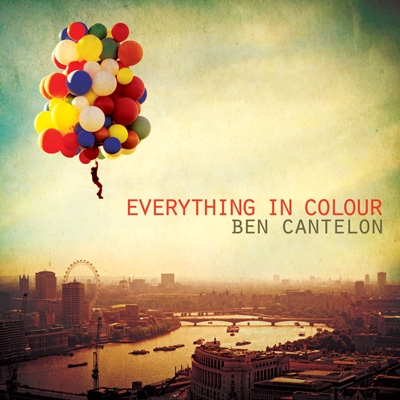 You would except church music to be positive… and for the most part it is, however there seems to be a political edge that is creeping in to some of the church music, and while I think there is a need for those songs to be heard I'm not sure posturing them as 'church songs' is healthy.
And then there is the brand new album from Canadian Ben Cantelon. Ben who rose to recognition as a worship leader through Soul Survivor, and continued the English connection working with Tim Hughes as part of Worship central.
This is a positive album… from the first track Ben sings "no more black and white, because I've seen the light, everything I see is in Colour" and while that may sound a bit on the cheesy side, it sets up the rest of the album in that light, and leads nicely to the lead single of the album 'New Day'.
For me the pick of the songs is 'Guardian'… and it's great. Not only is it a nice play on the shepard picture painted in Psalm 23, but it is catchy and it's different to a lot of the other stuff that is out there for Church music… it all starts to sound a bit 'Hillsongy'… or 'Matt Redmany'… and while that's fine… I think people are looking for something different, not the same as other great artists.
If you have been on the 'Spirit Break Out' album from Worship Central you would have already heard the song 'Savior of the World' which is a great song and a bit of a rocker.
After the first four songs the album fall into a familiar worship album rut. Now I'm not saying that they are bad… in fact they are anything but bad… they are very very good… There just doesn't seem to be very many surprises.
I honestly believe that church music should be the most creative… since we have the most creative thing to sing about. I just think the first songs are so good… they make the other songs seem less spectular.
I wonder if it may have better to spread these track over the course of the album (since there is no real side A or side B anymore!)
I was disappointed to hear Ben's 'Love came down' again on an album… it's the third album I've heard it on so far (two studio album and one live album)… however even David Crowder recorded 'All Creatures' a number of times and look where that band ended up?
This is a solid worship album… I just would have loved to see Ben push the boundaries more…
There is definitely going to be churches singing this music over the next couple of years!
Related articles